Infrared Leak Detection
Portsmouth and Dover area buildings and homes are susceptible to our harsh weather events.  As such, leaking walls, roofs, and foundations are an all too common event.  Damage to framing, structure, and interior finished areas is often the result even in Rochester, Laconia, and Concord.  Many times, home and building owners are surprised to discover that these leaks were most likely occurring far before the damage was obsereved.  Water intrusion in homes and buildings can be discovered with infrared thermal imaging technology before we can see any visible staining on walls and ceilings.
Water intrusion into New England area homes and commercial buildings is easily detecable with infrared thermal imaging technology.  Depending on conditions at the time of inspection, water will be the coolest or warmest area of a surface being scanned.  Once identified, these areas can be repaired quickly, often preventing interior damages from occurring.
Infrared thermal inspection technology can also help pinpoint troublesome leaks which cannot be found through other methods.  Quite often these "other" methods include invasive or destructive investigations.  Not so with a New England Thermal Imaging Inspection!  Our inspection is both non-destructive AND cost effective!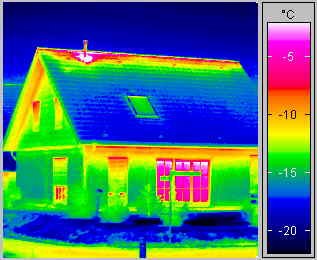 To schedule an Infrared Inspection or discuss this service further, please contact New England Thermal Imaging at: